What's the big deal with human gut microbiome?
Posted by Connie Pahl on 3 July 2020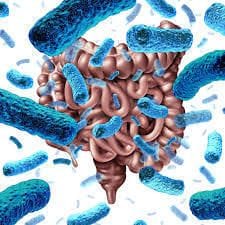 Have you noticed that more and more focus has been given to the human gut microbiome of late?
The gut microbiome is made up of billions of bacteria and other microorganisms that co-exist with other human cells in the large intestine. The gut microbiota helps with digestion, metabolism, immune function and brain health.
A healthy balance of gut bacteria is encouraged to boost metabolism, improve digestion, eliminate cravings, and assist with weight loss.
The gut microbiome plays a very important role in your health by protecting against bacteria that cause disease, and produce vitamins including B12, thiamine and riboflavin and Vitamin K, which is needed for blood coagulation and good bone health.
We know the gut microbiome is extraordinary, but also completely unique to every individual. Ultimately, this means that we have a great level of control over its composition. Our lifestyle has a real impact on the diversity of the gut microbiome and our susceptibility to weight gain.
Consuming more plant-based food & prebiotic fibres can enhance the gut microbial function which helps to improve the effectiveness of your gut barrier which can protect you from inflammation and rising metabolic markers.
Our team of Naturopaths and holistic practitioners at Cassia Medical Centre can assist you in achieving the right balance with access to comprehensive testing for microbiome composition and function.